SmartAgent.
®
Our streamlined agent desktop that integrates with market-leading voice platforms.
---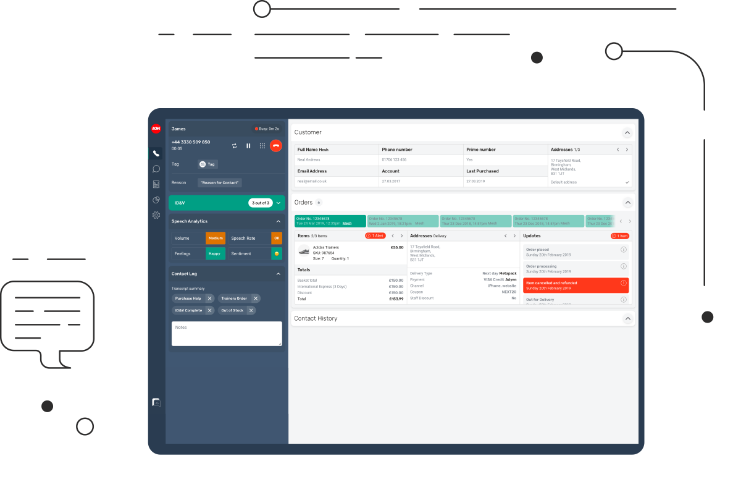 Bring the future of

customer experience management.
---
SmartAgent brings all your comms channels together into a single interface for easier contact management and supercharged customer experience.
Let your contact centre agents manage contact across multiple channels, from a single interface, and save valuable time by surfacing key contact information and history as soon as the contact arrives.
Blended
omnichannel.
---
Manage every contact channel - whether it's voice, chat, email, social or SMS - in a single browser window.
Open
platform.
---
Integrate with virtually anything, providing a single pane of glass for contact management.
Drive up
productivity.
---
Help your agents to manage more contact, more quickly, without being spread across dozens of tabs.
Delight

your customers.
---
Reach your customers in the channels they prefer, without the need for additional software.
Improve
agent happiness.
---
Make contact management and customer experience less stressful, by providing context with every contact.
Meaningful
insights.
---
Make sense of the data and trends in your contact centre, and use them to improve performance.
Reduce

costs.
---
Achieve greater efficiency and reduce the cost of handling contact.
Flexible Enterprise Features & Integrations.
---
We'll help you create the contact centre solution you need.
Amazon Connect Voice Integration.
Amazon Connect Chat Integration.
Gamma Labs DXP Integration.
Blended Omnichannel Management.
SAML SSO.
Deep Reporting & Analytics.
Customised Wrap-up.
Outbound Dialler.
Quality Management.
Realtime Integration.
Wallboards.
Self-Service Tools.
Trusted by some of the

biggest brands on earth
---
Find out more at
smartagent.io